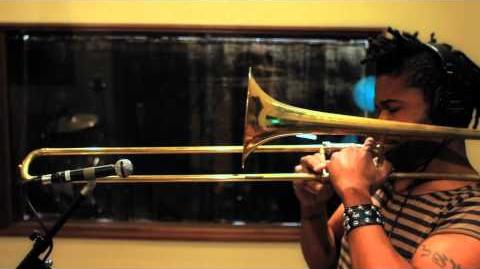 Webisode 2
Edit
In the second installment, we see Gwen Stefani and Tony Kanal walking into the studio in Santa Monica on March 8, 2012 to Gabrial McNair and Steve Bradley warming up. They are playing a familiar favorite, "The Imperial March" from the Star Wars series. This webisode features footage of Gabe and Steve laying down horn parts to recorded songs -- very reggae, bassy, and dub sounding songs. Fans were treated to small samples of "Looking Hot" and "Sparkle". The band seem very excited to have the two back in the studio with them cause it means they are getting towards the end of the process. Plus they bring in such a great vibe and energy to the group. Producer 'Spike' Stent compares the sounds coming out of the the studio to The Specials.
Gwen goes on to say that "all the reggae, dancehall-y type songs have horns... I'm surprised how many songs actually have horns on this record. I don't think the last album had this many."
Ad blocker interference detected!
Wikia is a free-to-use site that makes money from advertising. We have a modified experience for viewers using ad blockers

Wikia is not accessible if you've made further modifications. Remove the custom ad blocker rule(s) and the page will load as expected.